California Wildfire
On Thursday, October 10, a blaze broke out in the San Fernando Valley that continued to migrate westward, burning everything in its path. It began by destroying all of the dry vegetation in sight, and then continued to overtake hundreds of thousands of homes and buildings. The fast-moving flames engulfed everything in sight, leaving nothing but ash and tears behind.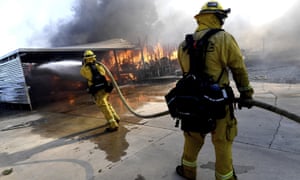 The fire was caused by flaming garbage in a trash truck that was disposed into dry grass. Strong winds at 20-25 mph then carried the flames across California into a mobile park in Calimesa, about 75 miles east of downtown LA. Three-fourths of the 110 homes were burnt to the ground, leaving one resident dead. 
In hopes of preventing another electric-caused wildfire, officials had shut down the Pacific Gas & Amp Electric Company the Wednesday before. Over 20,000 people were without power in Los Angeles. Officials were concerned that trees would topple into electric power lines, causing fires that would then spread due to the windy conditions of the state.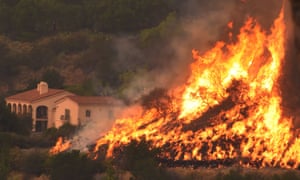 On Friday, October 11, California's governor Gavin Newsom declared a state of emergency, forcing residents to leave their homes. The evacuation forced over 100,000 people in Granada Hills, Porter Ranch, and Oakridge Estates neighborhoods to leave. Los Angeles fire department said an "unknown number" of homes were potentially threatened. 
Leave a Comment
About the Contributors
Joshua Jarnagin, Writer
I'm a senior at Farragut High School. I've gone to Farragut all my life.
Emma Short, Writer
I like cookout and I want to be tik tok famous :p