The 2020 MLB World Series
On October 20, 2020, the MLB (Major League Baseball) will be holding the 2020 World Series in Arlington, Texas. The teams playing will be the Tampa Bay Rays and the LA Dodgers.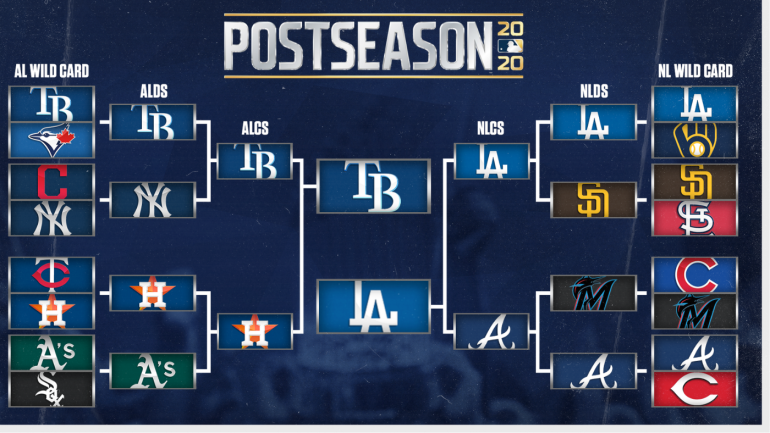 To start the process of eliminating 15 of the 16 competing teams, the MLB held the Wild Card Series at various fields, which was a best-of-three series that resulted in the elimination of 8 teams. The 8 teams that advanced were the Rays, Yankees, Astros, A's, Dodgers, Padres, Marlins, and the Braves.
Then to eliminate four of those teams they held the League Division Series, also held at various fields, a best-of-five series, that resulted in the following four teams advancing: the Rays, Astros, Dodgers, and the Braves.
Then to get the last qualifying teams they conducted the League Championship Series, a best-of-seven tournament held in San Diego and Arlington. In this round, the Rays defeated the Astros by winning 4 of the seven games and the Dodgers defeated the Braves 4 to 3 as well. Consequently, those two teams will be the teams participating in the best-of-seven World Series.
According to Sports Illustrated in their article "World Series Power Rankings: Who's Going to Win It All" by Matt Martell on September 8, 2020, the Dodgers are predicted to win this year due to the fact that they are one of the highest and best playing teams in the MLB.
The first game of the World Series was yesterday, October 20, 2020, at Globe Life Park in Arlington, TX. In the game, the Dodgers beat the Rays 8 to 3. The next game is tonight, October 21, 2020, in Arlington TX. For the next week, one of the seven games will be played until a victor is crowned. Neither team has won the World Series in recent years, the Rays have never won one. The Dodgers, however, have one 6 in the past, the last being 1988.
Leave a Comment
About the Contributor
Eli M. Smith, WriterI
I am a Freshman at freshman at Farragut High School. I have lived in Knoxville my whole life. I enjoy baseball, whitewater, and swimming.